Venice
Venezia by Vaporetto
After arriving at the train station from La Spezia, we (Tamra & Laura) boarded a vaporetto, aka waterbus, to take us to San Marco. Since there are no cars in Venice, you either walk or take vaporetto to where you want to go.
We stayed at Hotel Riva, a cool little place with a killer location behind San Marco and right next to a canal. At breakfast we'd snag a window seat so we could eat our rolls, drink our tea and watch the boats float by.
During our stay in Venice, we toured St. Mark's Basilica with 6,000 square meters of mosaics on the walls, ceilings and arches; Doge's Palace, the historical home of Venetian government and the ruling duke or doge for 400 years; about a zillion glass shops filled with colorful glass things to collect dust in your home; the island of Murano, its glass museum and more glass shops; the Rialto bridge, various museums and neighborhoods.
Since I was tiring of pasta and pizza at this point, I convinced Laura we should eat at a Japanese restaurant twice and hike over to a middle eastern joint one night that was billed as being in "the heart of Venice night life." A more accurate description would be to say that it was in a capillary of an extremity of Venice night life.
Our waiter had only been in Venice for a couple months and he told Laura he hated it, because it was "the city of love." I'd say more accurate description would be the city of hundreds of American tourists cramming onto risers to avoid the rising waters and talking loudly while doing so.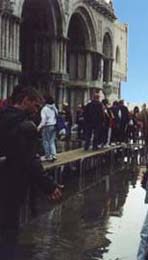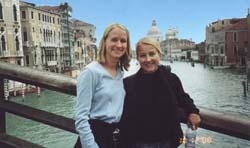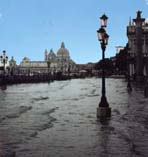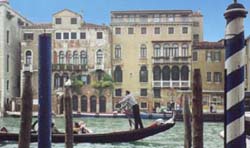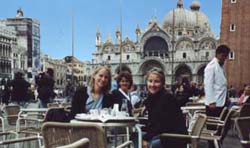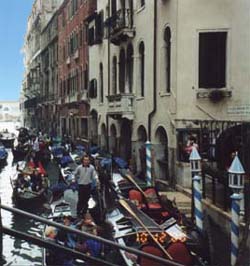 Venezia
opinions, factoids & observations:
• "Car-free urban wonderland of 100 islands -- laced together by 400 bridges and 2,000 alley --survives on the artificial respirator of tourism," guidebook czar Rick Steves
• 12 million visitors a year
• The city is sinking. Everyday the main Piazza San Marco area floods (as well as other areas of the island) and risers are put up for people to walk on. The locals slosh through the water in knee and thigh high boots. After a few hours, the water recedes and the risers are folded up.
• One of the icons of Venice is the gondola and although Laura & I did not shell out beacoup lire for a spin down one of the canals, we watched them float other tourists around.
Gondolas have been a part of Venice since the 11th century and in 1562, it was decided that all gondolas should be black to stop people from making an ostentatious show of their wealth. And black they stayed.