Florence
Ciao Firenze!
We spent four days in September here with Ryan's parents and then returned again (no arm twisting required) for 4 days in October when my sister Laura came to visit.
Both times we stayed outside the city at Agriturismo Montereggi (see below for more info) and took a short bus ride into Florence every day. We toured the city in the free time we had between meals and gelato breaks. Seeing the Duomo, Giotto's Tower, Museo dell' Opera del Duomo, Ponte Vecchio, the Accademia (home of David), Palazzo Pitti, Santa Croce Church, Palazzo Vecchio, the Uffizi and numerous churches, shops and restaurants made up our Florence experience.
Agriturismo Montereggi
We stayed at Agriturismo Montereggi run by the delightful Stegagnini family. They've recently restored a farmhouse that has been in Countess Stegagnini's family for 500 years.
It is in the hills just outside Fiesole on an olive grove with approximately 7,000 olive trees. There are four flats beautifully decorated in Tuscan style, a swimming pool and great views from every window. One day, we even got a tour of their olive oil factory.
If you're thinking of visiting Florence, we highly recommend this as your base. It's a five minute drive to Fiesole where you can pick up the bus to Florence.
For more information, contact Fabrizio Stegagnini (he's the youngest son in the family and currently studying political science at a university in Florence),
sblitz@libero.it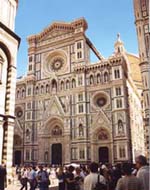 The Front of the Duomo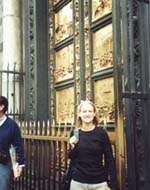 Laura in front of the Bronze Baptistry Doors,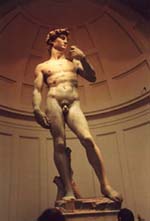 Michaelangelo's David
factoids
• Home of the Renaissance
• Outside of Uffizi Gallery is lined with statues including the namesakes of the Teenage Mutant Ninja Turtles. Can you name them all?
• We ate gelato every day here, sometimes twice
• For a great walking tour, contact Walking Tours of Florence, www.artviva.com Outlets Italian Style
During the second trip to Florence, Tamra was plotting how to get Laura and Ryan to visit the Gucci and Prada outlets, outside of Florence. Though not a fashionista in her past or present life, Tamra was unequivocally drawn to the idea of pillaging through last season's clothing and accessories made by the gods of Italian fashion. (Perhaps the resurgence of materialism was brought on by the recent introduction of the HBO hit, Sex in the City. Laura brought over a DVD containing the entire first season).
With Ryan at the wheel of the rental car and Laura yelling,"Drive! Drive!", Tamra's plan was squelched...for now...by the anti-shopping duo.