Dakar
Eight Days in Sub-Saharan Africa
In mid-February, Ryan, his parents and I flew to Dakar, Senegal to meet up with his sister, Rachael who is studying abroad there from Smith College. Rachael crammed her five months of Senegalese life experience into a nice eight day cultural emersion and showed us the highlights of Dakar, St-Louis and Goree Island. We visited the lively markets -- an overwhelming scene of people and activity, met her Senegalese host family (along with extended family and friends)and had lunch with them (ate a chicken and rice dish out of a giant bowl) and later grilled them hamburgers for dinner.
We attended one of the English classes Rachael teaches with her Kalamazoo College cohort, Emily, and met their students. One afternoon, we went along to one of Rachael's tomtom (drum) lessons and got to participate as well.
To escape the city, we took a ferry to Goree Island, a car-free island with only 1,000 inhabitants. Pastel colonial-style buildings, narrow sandy streets and flowing bougainvillea create a calm, serene feel. Goree was a busy trading center in the 18th and 19th centuries. We toured the Musee de la Femmes which featured the role of the Senegalese woman in traditional and modern societies and La Maison des Esclaves, or Slave House, built in 1786. Historians have noted that this was not a major slave shipment point though, stating that of the 20 million slaves taken from Africa, only 300 a year might have gone though Goree. (info from Lonely Planet's Gambia & Senegal). Over the weekend, we rented a car and drove to St-Louis in northern Senegal, which was established in 1659 and the first French settlement in Africa.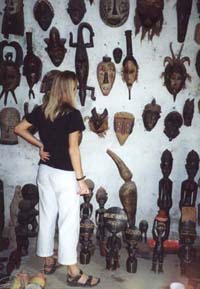 Shopping for"very old"masks in St-Louis.
factoids:
• Senegal population: 8.7 million
• Dominant ethnic group is the Wolof, who make up 35% of total
• Most people speak or understand the Wolof language & about 85% are Muslim
• Former French colony, gained independence in 1960.
• Economy is based on agriculture, primarily the groundnut (peanut) as a cash crop.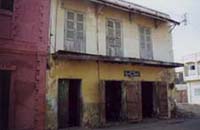 Streetcorner building in St-Louis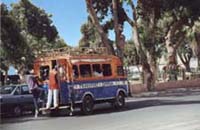 Car rapide zooming down the street. They're usually stuffed with people and young men dangle off the back bumper. To request a stop, you have a car rapide assistant (usually hanging out the back door), bang on the roof.
The colonial architecture still remains. We wandered the streets, visited shops and a market. At the urging of our Lonely Planet guidebook, we visited the Safari Bar at Hotel de la Poste. It said, "For colonial flashbacks, visit the Safari Bar complete with balding animal heads on the wall."
Throughout the trip, Rachael bargained for us in French, so we could get good deals on things like masks (see top, right photo), wood carvings, beads and fabric.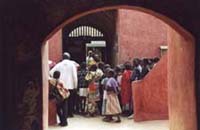 Children touring Maison des Esclaves in Goree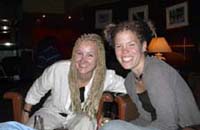 Tamra & Rachael with tresses -- french for braids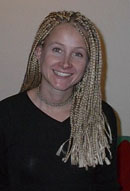 One woman with 4 extra sets of hands as needed, 4 packs of fake hair & 3.5 hours later... voila! I kept them (143 braids) in for almost a month. When it was time to go back to my natural hair state, It took me more than 6 hours to unravel them.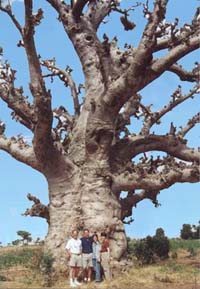 Don, Ryan, Rachael & Beth with a Baobab tree, believed to have magical power
the baobab:
• Found throughout Senegal and Gambia, usually growing in savanna zones in other parts of Africa
• Its story: the tree displeased a deity who in anger, pulled it out of the ground and threw it back into the ground upside down -- hence its root-like branches
• Revered & believed to have magical powers. Very old trees develop cavities & these are sometimes used to bury griots (musicians & singers who carry on tales of families & clans)