Travels to La Cadiere D'Azur, Provence
We traveled by train from from La Spezia, Italy to Toloun, France, to meet Ryan's parents (Don & Beth). Beth had just finished a week-long cooking course, Introduction to Provencal Cookery, given by Chef Rene Berard. La Cadiere D'Azur is a small village town set upon rolling green hills and landscaped with vineyards, gardens and flowering trees.
We stayed at the Hostellerie Berard, which is a converted 11th century monestary. Our room was called Blu Mediterranee and it was cool to once again be living on land (see our view in the middle photo). One afternoon, Beth took us out to the country home where Chef Berard runs his cooking school -- a perfect vision of the Provencal life. He graciously gave us a tour of the home and set us loose in his garden where you could find herbs, veggies, strawberries, grapes and more growing in meticulous gardens.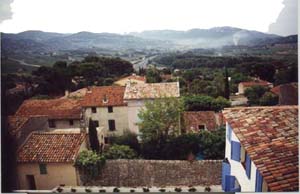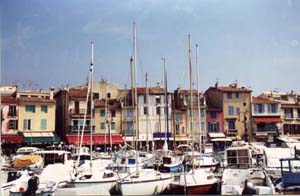 The next day, we visited the nearby seaside town of Cassis (top & bottom photos) and that evening had a fantastic dinner at Chef Berard's restaurant in the hotel.
Hostellerie Berard La Cadiere D'Azur Cote Provencale - France
www.hotel-berard.com
In addition to the cooking course, they also offer painting with watercolors & pottery courses.