Bavaria
Land of Liederhosen
Early in December, we were off to Stuttgart, Germany, to meet Ryan's Aunt Bobbie for a quick trip through the Bavarian province.
In addition to Stuttgart, we hit Augsburg, Rothenburg and Oberammergau just in time to take in the Christmas markets. It was festive and we fit right in -- apparently too well as all the Germans assumed we were German. This isn't a problem until people start talking to you and you keep trying to say something like "nein spreche deutch," but they keep right on talking.
We have heard this German-lookalike thing in Italy too, so now it is confirmed. We can masquerade as Germans... make that mute Germans.
While in germany, Ryan enjoyed the injection of meat into his usual forced vegetarian diet. Wursts of every shape, size and animal were there for the taking. My favorite part of the trip was visiting the castles of Koenig Ludwig who was an eccentric young king with elaborate tastes who died under mysterious circumstances in the late 1800s. Ryan's aunt lived in Stuttgart in the 70s and was a great guide throughout our trip.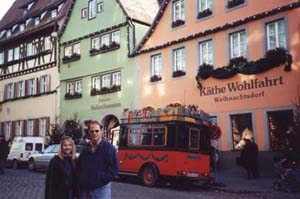 R & T near Christmas superstore, Kathe Wohlfahrt in Rothenburg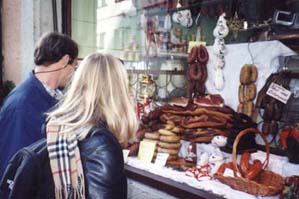 Checking out the worst of the wurst window display in Rothenburg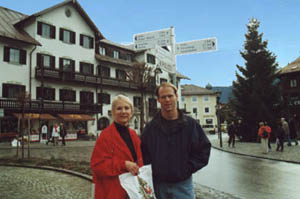 Bobbie & Ryan map out Oberammergau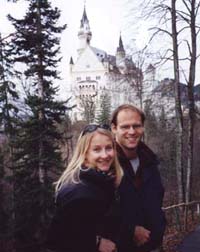 R & T heading to one of King Ludwig's castles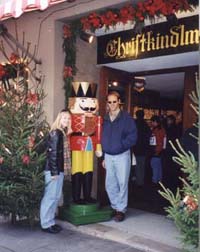 With the local Nutracker