Costa del Sol
Landlife in Marbella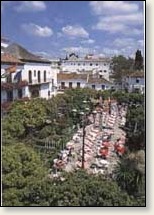 On July 5, Ryan, Tanna, Gornal and I met up with Ryan's family friend, Chico, who lives in Marbella, Spain. He was gracious enough to let us stay with him, take his VW Golf on road trips and show us the sites of Marbella. The Plaza de las Naranjas is in the photo to the right.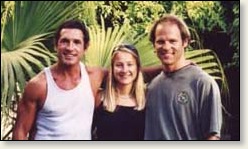 Chico also introduced us to eating dinner at 11 pm or after and let us tag along to various restaurants with his great group of friends. We used our Marbella base to visit nearby Ronda, Jerez de la Frontera and Seville. (There's Chico with Ryan and I at the right.)
One night at dinner we had a celeb sighting: Spain's most famous and popular bullfighter Francisco Rivera and wife Eugenia (I'd read all about them in HOLA!)
Costa del Sol
costa del sol factoids
• Spain's "sunshine coast," in the region of Andalucia, attracts more than 2 million tourists a year
• For almost 800 years (711-1492), it was a Moorish empire (collective name for numerous waves of Arab, Syrian and Berber settlers)
• King Fayad has a house here -- a fortress in the form of the White House! There is also a large septor decoration in the front yard outlined in white holiday-type lights. A prime example that having money does not always equate with having taste.
On the Road to Ronda
We took a day trip from Marbella to check out Ronda, the most famous of all the White Towns (places named for their whitewashed buildings). Scenic drive took us about an hour on winding mountain roads lined with sunflowers.
We visited the bullring, bullfighting museum, wandered the cobblestone streets and took an evening stroll through the park which overlooks the gorge.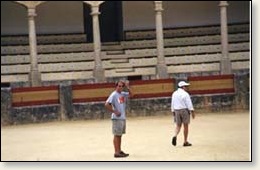 ronda factoids:
• One of the oldest cities in Spain & is 750m/2461 feet above sea level on an inland plateau that's slashed in half by a deep gorge, El Tajo
• Home to one of the oldest and most revered bullrings (Plaza de Toros) in Spain; great matador Pedro Romero, founder of modern bullfighting, lived and fought here
• Ernest Hemingway wrote two books featuring Ronda: For Whom the Bell Tolls and Death in the Afternoon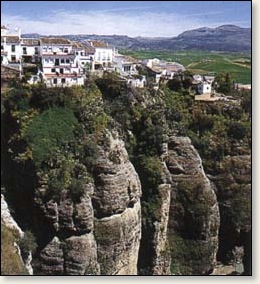 Jerez de la Frontera
We visited Jerez on our way to Sevilla and enjoyed tapas near the Plaza del Arenal, breakfast of churros and cafe con latte in a small square and toured the Alcazar, an old Moorish castle built by Almohads in the 12th century (see right).
We also got a 360 degree view of the city thanks to a device called a camera obscure in the tower of the palace. With a mirror and a pair of lenses, an image of the city is projected onto a spherical screen in the tower. There are about 20 of these in the world.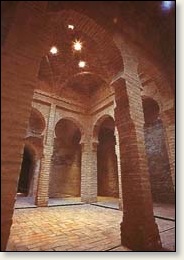 jerez de la frontera factoids:
• Famous for wine & horses
• Capital of sherry country -- more than 200 sherry bodegas (wine cellars) in town. If you have a bottle of sherry at home, take a look at where it was made.
• Location of the Royal Andalucian School of Equestrian Art