Balearic Islands (Ibiza, Mallorca, Menorca)
Ibiza
We arrived in Ibiza after working our way up the eastern coast of Spain, stopping along the way in Benalmadena, Cabo San Gato, Torrevieja, Punta Mascarat and other anchorages. We dubbed San Antonio, Ibiza as club land. Apparently in the summer, there is a massive invasion of Brit teens and twenties who head down to sun all day and dance all night along with a host of other holidaymakers. In fact, the population almost doubles every summer! Check out the photo of the kids being towed to the dock after sailing their optimists.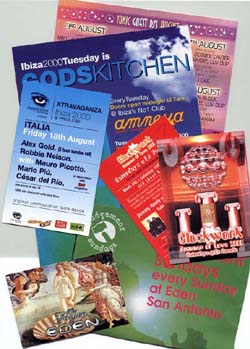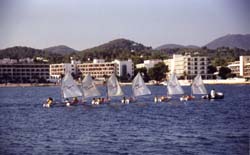 The streets are littered with colorful fliers announcing the nightly parties at dance clubs and dance, house and garage music pump out of storefronts, bars and hotels. Cover charges for the nightly escapades at places like Privilege, Space, El Divino are steep -- from $45-$60, so we opted for drinks only at a couple of the many designated pre-club bars. Over in Ibiza city, the club culture isn't as obvious and you get more of a feeling for historic Ibiza. Things are calmer and less touristy. The streets are quainter and there's an old walled city (see photo) that we visited for a touch of history.
Mallorca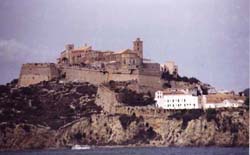 Mallorca is the biggest island and we enjoyed our few hours ashore in Palma. We had hoped to spend more time on land the following day, but our anchorage conditions deteriorated due to big swells and we stayed on the boat so an accidental grounding would not occur. We dingheyed our guests Patsy and John ashore (who sailed with us throughout the Balearics and over to Italy) to explore. From what we saw, we'd like to go back. The old city was filled with narrow brick-lined streets and historical buildings with decorative facades and iron balconies. We visited a couple other Mallorcan anchorages with crystal clear water and visibility up to 20 feet before heading to Menorca.
Menorca
Memories of Menorca include eating dinner ashore in Fornells (see harbour photo) and buying souvenir bottles of locally made gin. Overall, we would have liked to spend more time in all the Balearics, but we had to reach Italy by early September.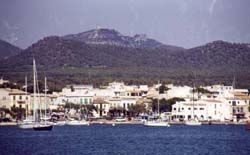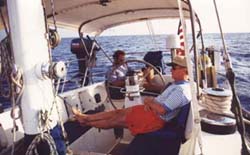 Balearic Islands Factoids:
• The islands are a part of Spain with the most westerly, Ibiza, being 50 miles off Cabo de la Nao on the Spanish mainland
• There are four main islands: Ibiza, Formentera, Mallorca and Menorca and a number of small islets
• Mallorca appears to have been inhabited by humans for at least 6,000 years.