Marmaris
Turkey Time Begins
Valkryie's Winter Home '01-'02
On October 13, we arrived to our winter home in Marmaris, Turkey and we became multi-millionaires! Netsel Marmaris Marina is a huge marina complex and there is a good-sized town to keep up busy this winter. We're located on the south west coast of Turkey, about 300 miles south of Istanbul. There are about 45 other boats with liveaboards on them, including American boats. So there are a lot of people to keep things interesting and to ensure we don't have to spend 24 hours a day together -- which often happens when we're out sailing around. There's a brand new fitness complex that we've been frequenting and we bought used bikes for around $50, so now we can zip around town to explore and run errands. Back to the millionaire bit... The Turkish lire is suffering high inflation, so one US dollar is equal to approximately 1,510,000 lire. It's definitely an affordable place to live from an American's standpoint. It's fun finding great deals, eating meals that cost $10 a couple, and going to the movies for $2 a person and having drinks and a snack for another $2.
We participated in Marmaris Race Week during the last week of October. We were picked up as crew by three English gentlemen looking for extra hands to tack, trim and drink tea. It was a lot of fun. Below of some photos to give you an idea of where we are living. We'll be adding more to the site as time goes on.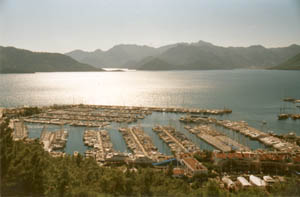 View of the marina from high up in the hills. Valkyrie is on the dock furthest out.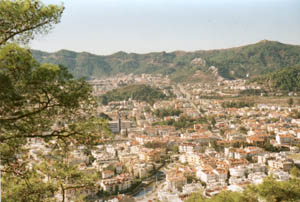 Aerial view of Marmaris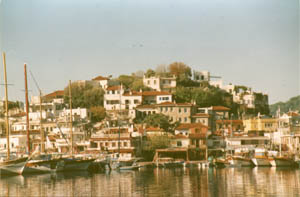 The hillside is lined with carpet shops, restaurants and homes. Gullet boats line the waterfront and take people out for rides during the summer.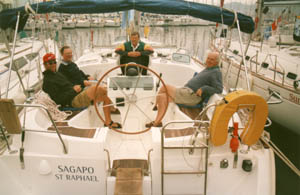 The Sagapo crew sans photographer Tamra strategizes for the day's race during Marmaris Race Week, last week of October. Ryan and I joined Robin, Martin and Chris from England aboard their Sunsail boat for the race competition. We had tea, gingerbread, prop shaft problems and came in 3rd in our Sunsail class. Jolly good time was had by all.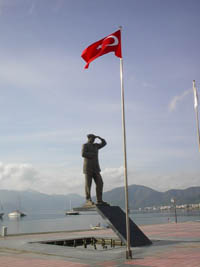 Statue of Mustafa Ataturk, the country's revered former leader, in the town square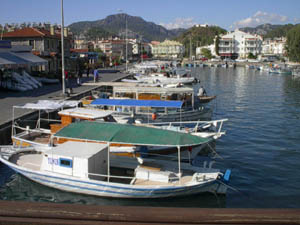 Footbridges over the canal lead to the waterfront and bazaar. Fishing boats line the waterfront.
More Information:
Check out the marina at
www.netselmarina.com
Check out the town at
www.mymarmaris.com