Summer 2002
It's fair to say that we got lazy in the photo-taking department this summer after our EMYR/Middle Eastern extravaganza. Hence, one page for Malta, Tunisia, Sardegna, Corsica and the Balearics.
Malta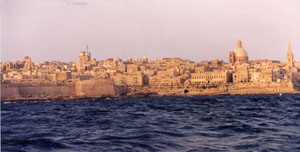 We arrived in Malta, after a 9-day sailing trip from Israel. Despite having great sightseeing hopes, boat upkeep and repairs kept us busy for our week here. Seemed like there would be some interesting day trips around the island. It was an expensive place especially after coming from Turkey and the Middle East. A plethora of Internet cafes awaited which was a welcomed site. Maltese, English and Italian are spoken here.
Tunisia
Our Tunisian travels were limited to coastal cities aside from taking the train to Tunis. There is a lot of cool stuff in the southern part of the country, including camel safaris and locations where Star Wars and The English Patient were filmed. Since we had a schedule to keep, we didn't journey south. Another time hopefully. Instead we sailed to Monastir, Hammamet and Bizerte. The first two are on the touristy side, but Bizerte was an opportunity to explore a small city not catering to tourists. In Tunisia, everyone is at leasts bilingual, speaking French and Arabic. English and Italian are common as other languages. Friends Patsy and John from Colorado joined us in Monastir and saiiled with us to Sardegna.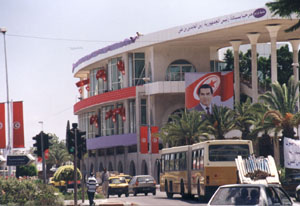 Tunis, the capital city, getting ready for a national holiday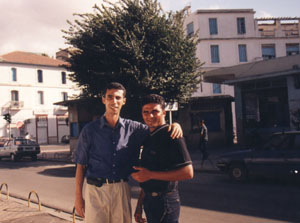 New friends Mohamed and Zied, two natives of Bizerte, a city on the north coast. Met this duo while out taking photos and went for coffee.
Sardegna
For most of our time in Sardegna, the weather was excessively windy, seas were wavey and I didn't get the camera out as much as I should have. First stop was Arbatax, then Olbia and then to the Porto Cervo area. Friends Tom and Jan met us in Olbia and sailed with us to the Balearic Islands. On our way to Porto Cervo, we anchored in the Cala de Volpe in the company of mega yachts, including Christina O. (as in Onassis) and many others that Tom, a Fort Lauderdale boat broker, recogized and ID'd correctly time and time again. To visit the exclusive Porto Cervo, we were relegated to an anchorage around the corner since there was no space in the marina and the anchorage was full. Since we were determined to make it over there and Tom had a connection to get us into the Porto Cervo Yacht Club for lunch, we donned foul weather gear and piled into the dinghy, which was having some deflation trouble in the front. Tom and Jan took turns with the foot pump to keep the dinghy inflated, Ryan steered us through the winds and agitated seas and I hoped this ordeal would be over soon. Within 40 minutes or so, we reached the yacht club of the rich and famous. The thing about Porto Cervo is that you start referring to 100-200 foot boats, as "oh, that smaller boat over there" because there are ones 300+ feet that skew your frame of reference a bit.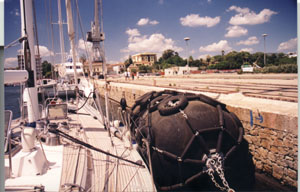 When we pulled along the wall in Olbia, we had the assistance of what could be the world's largest fender.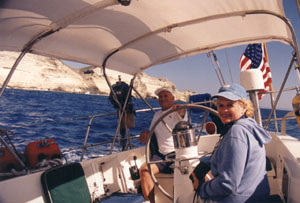 Tom and Jan enjoying the sail from Sardegna to Corsica.
Corsica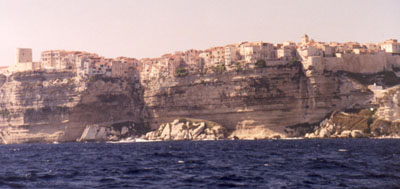 Bonafacio, Corsica was a last minute stop on our way to the Balearics. We stopped in for fuel and anchored in an area outside the marina for the night. Part of the city is hanging on the cliff as you can see in the photo to the left. It's a picturesque and quaint place with a lot of steep winding streets.
Balearic Islands
We started our Balearics tour in Mahon, Mallorca, where Tamra's cousin Stacey and her friend Erika met up with us. We traveled along the north coast until jumping over to Mallorca. In Mallorca, Ryan's high school friend, Jason, and his wife, Sylvie, joined us here and then they sailed with us to Ibiza. After they left, we returned to Palma, Mallorca (one of my fave cities and I should be reprimanded for not taking photos of the place) for 10 days or so and then went back to Ibiza. Ole. The Balearics received the dubious honor of being the only place in the Med that we sailed to twice as we first visited during the summer of 2000.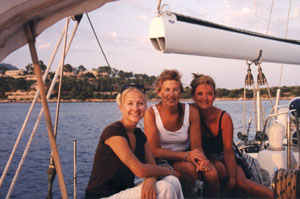 Tamra, Stacey and Erika at an anchorage in northern Mallorca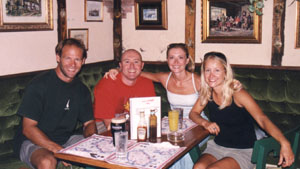 Ryan, Jason, Sylvie and Tamra at an Irish pub in San Antonio, Ibiza. When on a Spanish Island, do as the loads of British do and order a Guinness.