Jordan
Post-rally, a group of EMYR folks decided to take a trip over to Jordan to visit Petra. On our way, we visited Jerash and saw some more great Roman ruins and on our way back we visited Amman.
But the place we came to see was Petra and it was amazing. It's a kingdom carved from sandstone around 6th century BC by the Nabataeans. You may recognize the photo of the Treasury (below right) as it was featured in the Indian Jones movie where he hunts for the holy grail with his father. Ryan was thinking Petra might be a "one-hit wonder" with the Treasury before we arrived there. We soon were drawn into the sandstone landscape and amazed at the size of the place.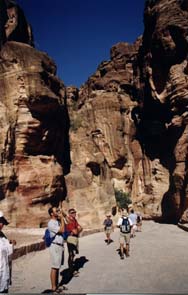 Following the pathway surrounded by towering sandstone forms.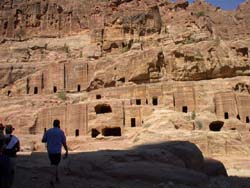 Wandering around Petra.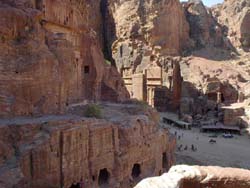 We climbed up into the caves and some of our group can be seen below having coffee.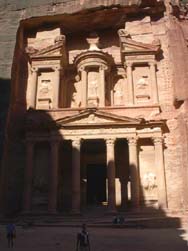 The Treasury -- although unfortunately partially covered with shade.
We're ready to go back to spend more time here and also visit Wadi Rum. It's supposed to be some of the best desert scenery anywhere in the world. Many scenes from Lawrence of Arabia were shot here. We didn't have time to visit this time, so next trip....