Rome
Report from Roma
Following is the report from our first stint in the big city. While Rome has an overall grittier, more urban feeling than some other Italian destinations, when you're wandering through the Forum, you expect to see a Caesar and his entourage walking down one of the stone paths.
This imaginative scene is aided with books called "Rome, Past and Present" that have plastic overlays to un-ruin the ruins. You start seeing things as the once were as opposed to what remains today.
While Laura was in town in October, we spent four days here basking in ancient history and present day life. We walked and Metroed (subway is Metro) ourselves from the Colosseum, Capitol Hill and the Forum to St. Peter's Cathedral and the Sistine Chapel and many places in between.
One of the unexpected surprises on our list of conquests was the Cappuccin Crypts. Below the church Santa Maria della Immaculata Concezione are the bones of more than 4,000 Cappuccin monks who died between 1528 and 1870. Their bones have been artistically arranged throughout five small chapels. In the last chapel, as the skulls grin at you, there is a sign which reads "What you are, we were. What we are, you will be." Talk about coming to terms with your own mortality: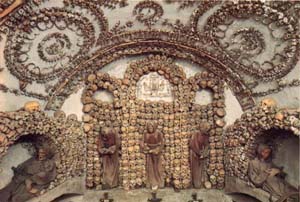 We also got to see the restored Sistine Chapel, but we can't show you any photos of the Sistine Chapel. The Sistine Chapel restoration was funded by a Japanese company and as part of the deal the company now owns the photographic rights of the chapel.
During the restoration, no paint was added, although centuries of dust, soot and glue were removed, revealing the bright, original colors of Michelangelo. One critic of the restoration called the new look, "a Benetton Michelangelo," claiming that a layer of varnish, which Michelangelo had added to darken the colors had been removed. Most experts, however, believe the new colors probably matched those painted by the artist.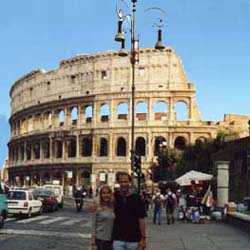 Click here to see more from our extended Roman holiday!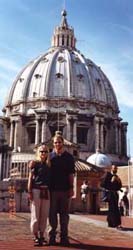 factoids
• As of this writing, we have not been pickpocketed, cornered by thieving bands of small gypsy children or hit by a Vespa while visiting the birthplace of Western Civilization
• Millions of extra tourists visited Rome in 2000 for The Jubilee Year. Catholics came for the pilgrimage of a lifetime and secular folks came for a cultural pilgrimage to see all the newly restored monuments
• Although the summer blockbuster Gladiator is fictional, on a tour of the Colosseum, our Italian archeologist guide cited it as an example of gladiator life.
• For info:
www.informaroma.it
(general Rome info),
www.vatican.va
(Pope John Paul II's site),
www.fs-on-line.com
(train info & schedules),
www.museionline.it
(museums in Italy)
Roman Holiday
While Valkyrie spent the winter getting new decks, we found an apartment and moved into Roma. Ah, yes, living on dry land again. Ryan is getting antsy, but I like the terra firma just fine.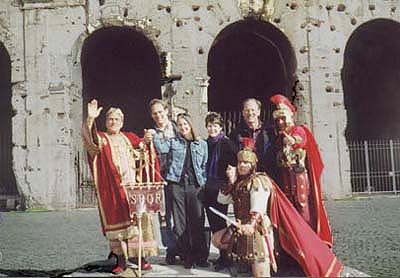 Here's an overview of our winter in Roma. At the left, here we are with Ryan's parents and our old amici Caesar and the Roman soliders at the Colosseo.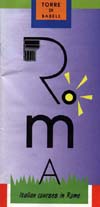 Parliamo Italiano
We took Italian lessons at Torre di Babele in November and then I continued in January and early February while Ryan focused on the boat work.
www.torredibabele.it
Appartamenti Italian
Here's where we lived in January & Februrary on Emanuele Filiberto. This is a shot from our window into the courtyard.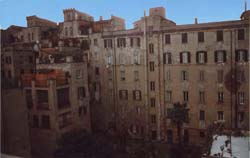 At the end of February we moved to another place on via Labricana, just 2.5 blocks from the Colosseo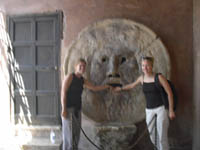 Tossing coins at Trevi Fountain
Rachael (Ryan's sister) & Tamra @ the Boca di Verita (Mouth of Truth). This has been featured in a number of movies, including Roman Holiday (Audrey Hepburn & Rock Hudson) and that one with Marissa Tomei and Robert Downey Jr. (I forget the name). If you're a liar, the mouth is supposed to clamp down on your hand. We escaped unscathed.