Ostia Antica
Ostia Antica
This is Rome's ancient seaport, less than an hour from downtown Rome. For more than 600 years it was the main port and a trading center, and at the time of Christ, 80,000 people lived there. It later became a ghost town and has now been excavated.
Ostia Antica is just a few minutes away, via car or bus, from Tecnomar, the marina alongside the Fiume Tevere (Tiber River) where Valkyrie is holding court. Once you arrive at the 2,000 year old ruins, you pretty much have an all-access pass to explore. It's such a big area that you feel as if you have it all to yourself. (And if no one is looking, why not climb up behind a 2,000-year-old statue?)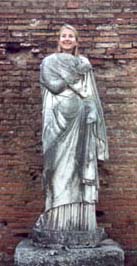 Ostia Antica provides a great look back into life during the Classical times. Being able to walk through an entire city is quite amazing because in Rome, you only get to experience sections since so much has been built on top of and around the ruins.