Italian Riviera
A Little Wind & Wave Action
Ryan and I, along with sailing companions Patsy and John, arrived in San Remo, Italy (near French border) on September 3, after an adventure with Force 8 & 9 winds, aka gale (34-40 knots) and strong gale (41-47 knots). The trip took 48 hours and half of that journey featured winds up to 47 knots and waves breaking and splashing into the cockpit.
It wasn't as ominous as it could have been though as the sky was blue and sunny during the day and wave height was only 10-12 feet/3-3.6 meters (as oppposed to the 4-9 meters predicted by the Beaufort Scale of Wind Strength).
Sailing On
After a few days in San Remo, we made our way to Marina de Fezzano in the Gulf of La Spezia near the bigger city of La Spezia, which is known for its extensive Naval Dockyard. With our strategic docking position, we were close to Portovenere and the Cinque Terre.
Portovenere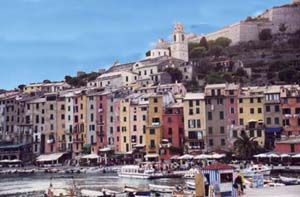 A short 10 minute bus ride whisked us from the marina in Fezzano to Portovenere, a 12th century hamlet of Genovese architecture (see top photo). Pastel colored buildings line the narrow streets that lead to a 16th century castle on the top of the cliffs. The harbor area is lined with restaurants, shops and a traffic jam of tour busses and steady stream of visitors getting off and onto the ferry.
The Cinque Terre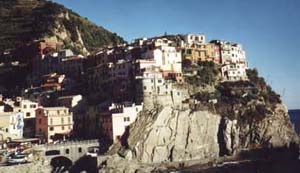 One of the Cinque Terre villages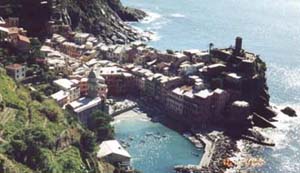 Another CT village
The Cinque Terre are five villages -- Montorosso al Mare, Vernazza, Corniglia, Manarola and Riomaggiore -- on a stretch of rocky coastline (see photos 2 & 3). They appear to be clinging to the edge of the cliffs they are built upon and used to be only accessible by sea and foot. Even today, no road links them all. You can train, ferry or hike between them to experience "unadulterated Italy" so well put by travelbook phenom Rick Steves.
One fine sunny day in late September, we trained from La Spezia to Montorosso and decided to hike with my sister Laura (who was visiting us) and visiting friends David Emerson from Boston and his daughter Sarah from Big Sur, CA area. The hike from Montorosso to Vernazza was billed as "tough, but worth it." From Vernazza to Corniglia is was described as a "hard hike." The other two are cake.
The views were fantastic: ocean waves crashing into shore, villages in the distance, green folliage, small waterfalls, vineyards and more. It was a great way to view the five towns as Ryan and I had visited them before via train. If you're in solid shape, have clothes suited for sweating, scrambling over rocks and getting hit by branches and have sturdy shoes (hiking or athletic), then do all the hikes. People in loafers, heels and dressy casual clothes were spotted struggling on the strenuous hikes and calling on their mobiles for an airlift out.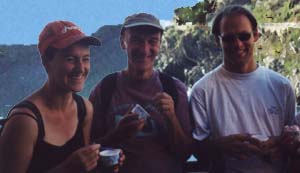 Sarah, David & Ryan during post-hike gelati break