Capri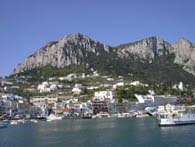 View of Marina Grande from the ferry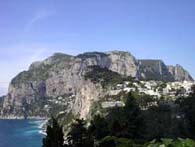 Looking over to Capri Town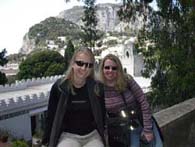 Tamra & Janel in front of a church
Once the vacation getaway for Roman emperors Augustus & Tiberius, today it's a scenic tourist-filled trap (of the nicest sorts of course). Ryan, Janel (my friend of LA & former Ogilvy PR colleague) and I opted to hike around instead of peruse the numerous gift shops, boutiques and high end designer collections, hence these photos give you a more serene view than the streets packed with German and American tour groups.
The good news is you can escape, if you're willing to take a hike. We were just thankful we were there in April, because we can't image the chaos that arrives with the summer months. Momma mia.
We were denied the opportunity to visit the infamous "blue grotto" where row boats take you into a grotto that is eerily lit with blue sunlight. The word from the boat captains was that it was too rough to make the trip that day. Whatever. Seemed like a good day to me. Check out the water yourself in the photos. Am I right?!! If you go, hopefully you can check it out & tell us about it!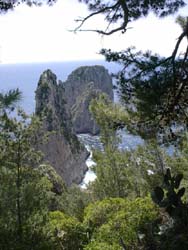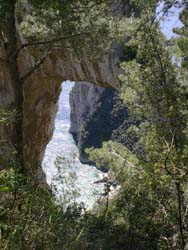 FOR MORE INFO:
www.caprionline.it