Israel
We visited three ports in Israel: Haifa, Ashkelon and Herzliya and took tours from those bases.
In Haifa, we got to visit the ancient walled city, Akko, but at the time of putting together this page, I didn't have my photos developed from there.
In Herzliya, the Ministry of Tourism invited us for an overnight trip to Jerusalem, Masada and the Dead Sea. We wandered though the Old City and visited the Western Wall. People prayed as police stood by. Also saw Mount Zion and the Mount Olives. Another interesting place was the Church of the Holy Sepulchre which is said to be built on the spot of where Jesus was crucified. Ryan's favourite part on the tour of the church was when our guide said, "And now, you can enter the tomb of Jesus."
The Western Wall, called the "Wailing Wall" by westerners.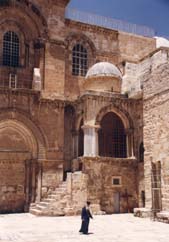 Church of the Holy Sepulchre.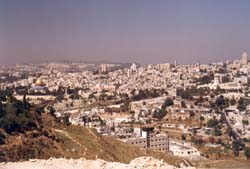 View of Jerusalem.
That evening in our Jerusalem Hotel, we shared it with a large group of Orthodox Jews who came for a wedding. In honor of Shabbat, two of the hotel's elevators were designated as the Shabbat elevators, automatically going to every floor and back down again on a timer, so no button pushing was required. For the EMYR crowd, these were the elevators to avoid unless you wanted to tour every floor of the Olive Tree Hotel.
The following day, we ascended Masada by cable car. In the afternoon, we descended to the lowest point on earth, the Dead Sea, 340 meters below sea level, where we floated with ease and rubbed the magical Dead Sea mud on ourselves. The Dead Sea mud treatment in a spa would run about $120, but here it was free for the taking.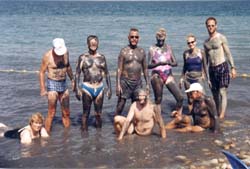 Some mud-covered EMYR sailors.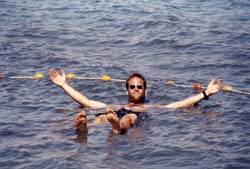 Ryan floating with ease in the Dead Sea.