Southern Ionian
Checking out the Peloponnisos
For the trip to Greece, we were joined by Ryan's dad and sister who flew over from the states. After leaving the Tiber River, we landed four days later on the island of Zakinthos. From Zak, it was on to the mainland of the Peloponnisos. We went to Katakolo (where we went in April aboard La Zuccherina), toured Olympia again and spent a couple days unwinding. Then, it was time for Ryan's dad and sister to head to Athens and time for us to move to some anchorages. Following is a rundown:
Pilos/Pylos
We dropped anchor in Pilos' Navarino Bay, which is one of Greek's best natural harbours. Navarino Bay was the site of the battle that secured Greek independence from the Turks in 1827. Two medieval castles line the shore of the town and over in our anchorage, we hiked up to the remains of Navarino Castle, dodging large spiders who dangled overhead.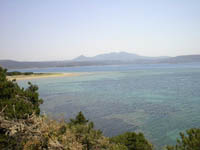 View of Navarino Bay at Pilos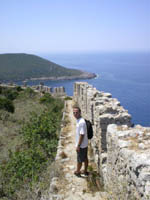 Hiking around Navarino Castle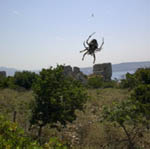 One of the local residents of Navarino (about 1.5 inch body) that hangs above your head while you hike up to and around the castle.
Methoni
In Methoni's harbour, there were 5 American boats! One couple from Vermont said they had been in the Med 5 years and never ran into so many Americans. Sights other than all those stars and stripes blowing in the breeze include a massive fortress, which covered approximently 400 meters end to end.
It was built by the Venetians and was operational from the 13th - 19th centuries. The Turks took over in the 16th century. Author Miguel Cervantes was held in the Turkish prison and it is thought that the tale of the captive in "Don Quixote" was based on his experiences as a Turkish prisioner.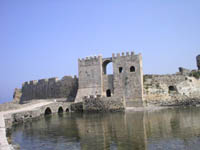 Part of the moat around the fortress.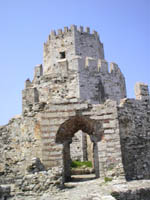 This tower was built by the Turks in 16th century to replace an earlier Venetian structure.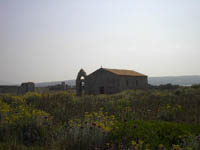 Wildflowers grow throughout the fortress, surrounding the church.
Elafanissos
We found this great deserted anchorage with people camping in tents along shore. A fully-stocked beach bar was a short dinghy ride away. The sand was like white powder. The water was clear to the bottom and gleamed in various shades of blue. We snorkeled, threw my Chicago Ultimate Summer League disc around, hiked 2+ miles to town and more. We were having so much fun, we forgot to take photos, so you'll have to take our word.
For one week of our journey along the south side of the Peloponessis, we were joined by Ryan's step-cousins, Amy an ex-pat living in Paris and Kyle, a former financial guru for listen.com who took a year off to travel with girlfriend Jennie from San Fran who also traded a dotcom life for a year of backpacking. We celebrated July 4th here with our friends from the good ship Noah, Paul and Connie from Cape Cod, MA.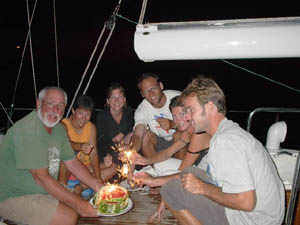 4th of July frivolity: Paul holds the sparking watermelon while everyone else lights up their sparkers (actually sparking birthday candles from the Azores, I knew they'd come in handy some time when I bought them last year. ) From left to right: Paul, Connie, Amy, Ryan, Jennie, Kyle