Siros
Siros is known as one of the less touristy cycladic islands. Ermoupolis (named after Hermes, god of trade, messengers and thieves) is the largest city in the cyclades and the capital city of this island group.
Most tourists who come here do only so to change ferries, so they miss the charm that exists beyond the main waterfront street.
In the middle ages, Siros was the only Greek islands with an entirely Roman Catholic population. Today 40 percent of residents are Catholic and 60 percent Greek Orthodox.
We anchored in the harbour near the town of Finikas and took the bus into Ermoupolis where we could stroll back alley ways, window shop and check out DVDs for less than $1 a piece (also, no deposit was required and you paid when you returned the DVD!).
After a few days in Finikas, the Meltemi winds began to blow. These winds come from the northwest and typically blow from July to September. For about a week, we had consistent winds of 20 miles per hour. Sitting in the harbour wasn't uncomfortable, but dinghy rides ashore were not dry. With gusts of 30+, drying clothes on the line rigged up on deck, was a risk, but clothes dried really fast. I only lost one towel overboard and it was rescued.
On August 2, Tamra's mom, sister and sister's friends arrrived for a visit. We spent a couple days in Finikas and then moved on to another anchorage, Vari, on the island in preparation to sail either east to Mykonos or Naxos.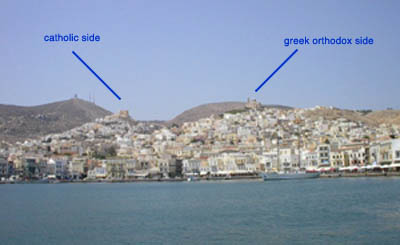 View of Ermoupolis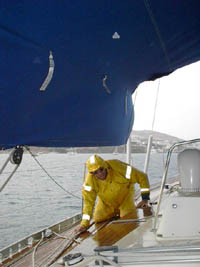 On August 1, Siros' waterfront desert climate hosted a rare downpour. For more than 30 minutes, we were pelted with rain and took the opportunity to wash the deck.There's Ryan above. We hoped the rains would send the winds away, but as soon as the rain stopped, the winds kept right on blowing.