Santorini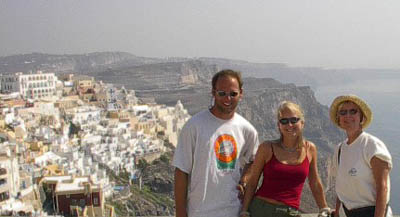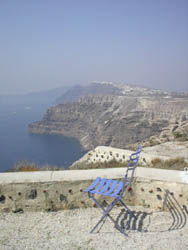 From Paros, we took a ferry to Santorini/Thira with my mom, sister and her friends Heidi and Angel. Santorini is thought to be the most spectacular Greek island of all. The island was originally circular, but around 1650 BC, a catastrophic volcanic eruption occurred and the center of the island sunk, leaving a caldera with high cliffs. From the ferry, the views of the island are dramatic and not to be missed. Legends say that perhaps Santorini is the lost city of Atlantis (the part that is sunk). Our tour guide said that the population is around 20,000, but more than 1 million tourists visit every year.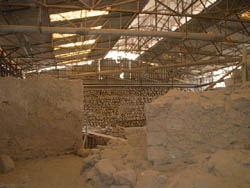 Excavation work at Ancient Akrotiri
On our tour, we visited Akrotiri, a Minoan settlement where escavations in 1967 discovered an ancient city buried beneath the volcanic ash. The remains date to late 16th century BC. Since no skeletons or treasures have been found, it is thought that the Minoans had advanced warning and were able to escape before the eruption occured. This place predates Pompeii by 1720 years.
Next stop was Perissa, a black sand beach for swimming and lunch. From there, it was onto Santo Wine, where we had a non-pretentious wine tasting (same glass was refilled time after time) and then time to shop in the Santo Wine market.
It was a quick trip to Santorini as our guests had to head back to Athens, so hopefully we'll return to visit the city of Oia, tour the volcanic island, ride donkeys, etc. (all the fun things I did in '97 when I visited with friends). We'll be sure to add to the page if we return to share more details!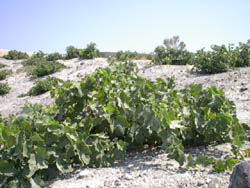 Grape vines grow on the ground due to the high winds and heat of the summer.