Paros
From Naxos, we sailed over to Parikia, the main ferry hub of the Cyclades. Once ashore, you can leave the mainstreet and enter a maze lined with shops, greenery and flowers. There are two open air movie theatres and we watched "Traffic" one night. It was in English, subtitled in Greek, so all the spoken Spanish was translated into Greek. We picked up occasional words and verbs, so I think we made some sense of it.
There are heaps of early 20-something backpackers around lugging giant packs, sleeping bags, tents, foam pads, beach towels, etc. Makes us glad the boat saves our backs! August is the big month for tourism in the islands.
We've played water and beach volleyball a few times over at a nearby beach. Fortunately, we haven't come up against any real forboding opponents, so it continues to be fun. We took a day trip over to nearby Antiparos and visited a cave which was discovered in 1673. It has a stalagmite which is billed as the oldest in Europe, estimated at 45 million years old.
Back on Paros, we took a bus over to the northen town of Naoussa and it is fantastically quaint with more winding streets, whitewashed buildings, eclectic shops for window shopping strolls and more. I want to go back ASAP -- with my camera. We rented a car and toured the island one day. Our first stop was Butterfly Valley or Petaloudes (from a Greek translation). Thousands of butterflies (tiger moths) spend the summer and part of September in the small wooded area with natural springs. They are born throughout Paros and they all migrate here in June. After mid-September, they head south.
Other stops on our road trip included the fishing village of Piso Livadhi, Chrysi Akli (Golden Beach), Lefkes, the old marble quarries of Marathi and Naoussa.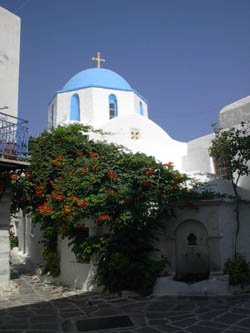 One of the churches we found while strolling through the streets of Parikia.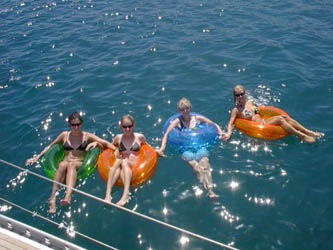 Enjoying the water in our new floating lifesavers. Lime Heidi, Mandarin Laura, Blue Raspberry Joan and Mandarin Tamra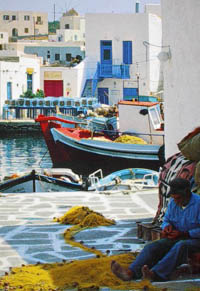 Fisherman in village of Naoussa, on the north of Paros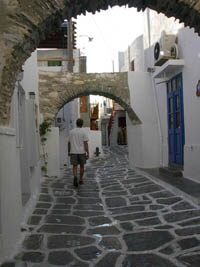 Ryan walking down an alleyway in Naoussa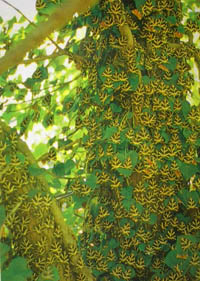 Tiger Moths covering the folliage in Butterfly Valley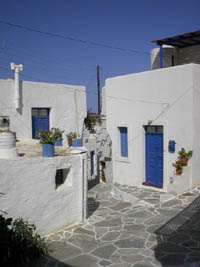 Homes in village of Lefkes
For more information:
www.parostravel.gr