Naxos
We sailed into Naxos harbour (city of Hora/Naxos Town) after sailing for 5+ hours through winds that gusted up to 40 knots and nice rolling seas. Funny enough, thankfully our onboard guests, Tamra's mom, sister Laura and Laura's Seattle neighbor friends, Heidi and Angel, seemed to enjoy the little adventure at sea. Maybe being in the adventure mode is the secret to staving off seasickness.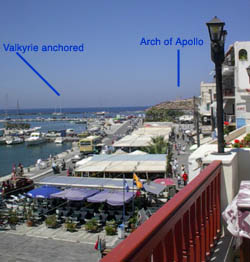 View of waterfront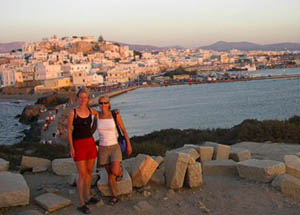 Laura and Tamra with Naxos Town (aka Hora) in background
I was last in Naxos in '97 and all I can say is, Hora/Naxos Town has grown. A lot. Four years ago, a travel agent in Athens told me and three friends that Naxos was like a traditional Greek island, not overly commercial and a nice constrast to other more touristy cyclades. Well, apparently after our departure, Naxos felt like a construction boom was in order. Hotels, restaurants, bikini shops, shoe shops, clothing shops, postcard shops, travel agents, tacky souvenirs, etc., doubling or tripling the size of what I remember of the town of Hora/Naxos Town. Nevertheless, it's still fun and you can escape the throngs of tourists by escaping up into the winding backstreets of the Kastro with its white washed cubes surrounding you. The Temple of Apollo across the causeway is a great site as well.
To see more of the island, we crammed into a taxi and our driver took us to Kouros so we could see a giant rock person statue. It is from the first half of the 6th century BC and was left on the site of the quarry unfinished. Its called Kourous of Melanes. From there, he took us to some scenic spots for photos, through tourist-free villages, to a marble quarry and to the 16th century Church of Drosiani. For dinner, we opted for Mexican and margaritas at a place called Picasso's. Ole.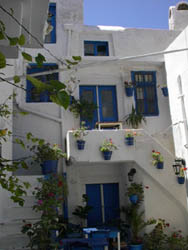 The Kastro's white and blue cubes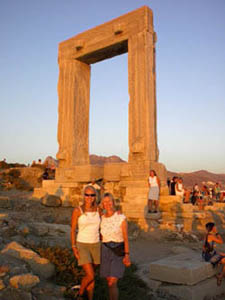 Tamra and Mom at the Temple of Apollo (yes, Tamra is standing on a brick for any of those wondering.) The legend is that when Istanbul is returned to Greece, the temple door with magically appear.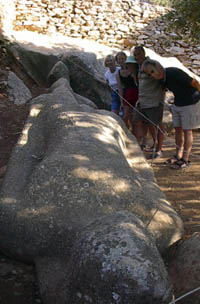 The gang with the stone giant, Kourous of Melanes. His right leg is broken, so perhaps that's why the project was abandoned.