Monemvassia
Monemvassia
The name, Monemvassia, comes from "Moni Emvasis" meaning single entrance. From the mainland, there is a kilometer-long bridge to enter into the walled village. Built in the sixth century by the Byzantines, it was an important port until the 20th century.
We took the dinghy over to the old town and got reprimanded in Greek by some senior swimmers who felt the presence of the dinghy in their sacred bathing waters was inherently evil. Since they didn't appear to speak English, I thought I'd give Italian a try, but that didn't work either. However, they did recognize the Italian and said "Eh, Italiennes!" So at least the Americans saved face and we left the dinghy under the guise of our alter Italian personas.
We wandered through the intricate stone alleyways, numerous archways and up a zig-zag path to the top of the rock. The views were amazing. Down below in the lower town, great little shops, restaurants and hotels are tucked away in the walls of the lower town, so they don't detract from the medieval feel. No cars are allowed, so people carry things to their home, restaurant or shop via wheel barrow or donkey. If you're planning a trip to Greece, we highly recommend adding this stop to your itinerary!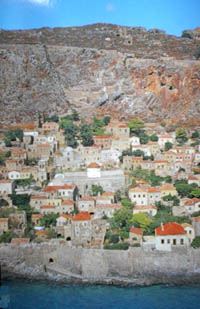 The walled village from sea
Looking down on the lower town from above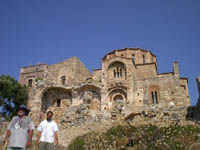 Paul (from the boat Noah) and Ryan walk down from the church on the top of the mountain.
Cats are everywhere, in accordance with Greek cat law (neuturing is costly, so excessive reproducing is the result), so eating a meal solely in the company of humans is impossible. One night we were surrounded by no less than five cats at a time, sometimes up to eight with others staked out strategic positions to pounce in if any food was offered.
Back on the mainland, the younger city of Yefira awaits. As we had drinks one evening at the bar with poofy yellow cushioned chairs, we marveled that it was midnight and the street was filled with children (age 2 to 9) running around, riding scooters, kicking balls, etc. Apparently the kids' rights movement has made more ground here than the places where we grew up. When we left around 12:30 am to head back to the boat, the kids were skill running around and showing no signs of slowing.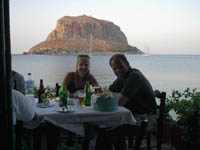 T&R at dinner in the village of Yefira. In background, "The Rock" where the walled city is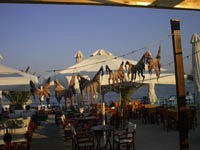 Octopi hanging on the line waiting to be picked for dinner at a Yefira restaurant.