Hydra
After Monemvassia, we sailed over to Porto Kheli and spent a week there (they had assorted marine chandlaries to keep the captain content). We met up with La Zuccherina (Mark, Louisa, Chester and Griff, who we sailed with to Greece in April). After PK, it was onto Ermioni and then we left the Peloponnisos and sailed east to Hydra's Mondraki Bay.
Hydra (pronounced ee-drah) is known as the Saronic Gulf island with the most style. Contributing to the atmosphere is the absense of motorized vehicles, except for garbage trucks and some construction vehicles. Donkeys and horses are the means of transport.
The harbor is lined with outdoor cafes and shops. Donkeys wait patiently in the sun for the ferries to empty and people to haul their luggage over for a lift to their hotel up the hill.
On the east side of the harbor, we visited the Historical Archives Museum of Hydra which showcases a collection of historical portraits and naval articles related to the island's role in the War of Independence. White and earth-toned homes and buildings are stacked into the rocky hills and winding streets lead you out of the tourist central and up into the hillsides which are deserted except for the occasional donkey brigade clomping by.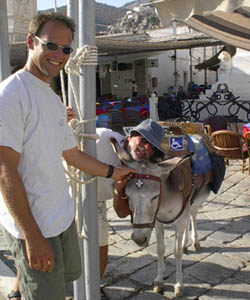 Ryan, Paul (American sailing on Noah) and Hydriotic donkey pose on the main drag
Is that a horse, donkey, mule, ass or burro?
Since you can likely see a variety of hoofed creatures on Hydra main street, we consulted an expert: our handy Webster dictionary.
If you're interested, it goes something like this...
Horse -- we figured we knew this one
Ass -- hoofed mammal resembling a horse or donkey
Donkey -- a domesticated ass
Mule -- sterile hybrid offspring of a female horse and male donkey
Burro -- a small donkey
Everything is so much clearer now.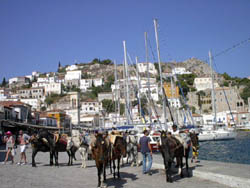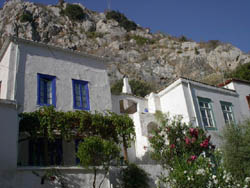 Donkeys and horses wait for work along the harbor Hydra houses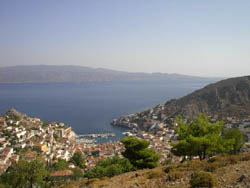 View of Hydra Town and harbor from above
www.compulink.gr/hydranet