Gibraltar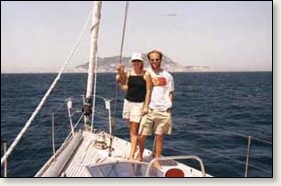 A Rock Sighting
Arriving in Gibraltar on July 1 marked the conclusion to our 3,600 nautical mile crossing. With Valkyrie holed up in
Queensway Quay Marina
, we spent July 2 touring the sites including the Great Siege Tunnels, St. Michael's Cave (once home to Neolithic Man, today it's used for concerts and fashion shows) and the nature reserve with the famed Barbary apes. Tunneling in the rock began during the Great Siege (1779-1783) when France and Spain tried to recapture the rock.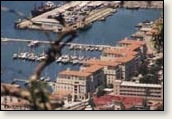 Aerial shot of Queensway Quay
Today, there are more than 30 miles of tunnels inside the rock. Tamra's favorite point on the tour was visiting the Barbary apes. Winston Churchill said that the Brits wouldn't leave Gibraltar until the last ape does. From what we saw, that won't be anytime soon. We expected the apes, which are tail-less Barbary macaques, to be fenced off, but they are roaming freely around! We visited a den area where about 30 live and just about everyone we saw had a baby in tow. Overall, around 160 apes live in the reserve and are happy -- or indifferent -- to pose for pictures.
Since Gibraltar is a British colony, prices are relatively high, just like they are in England. It is a duty free port, so every few days the main street was invaded by cruise ship passengers (you can't mistake them due to their cruise ship name tags) looking for deals on electronics, jewelry, etc. Guiness, Marks & Spenser, fish'n chips, postcards of the Queen and other specialties from the UK are here. Also, if you're interested in offshore banking, Gib is a main hub.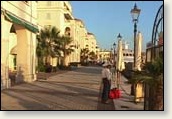 QQ's bricklined promenade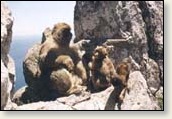 A Trio of Barbary Apes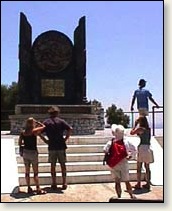 The Northern Pillar of Hercules
factoids:
• AD71: Tariq ibn-Ziyad, governor of Tangier & Moorish army embarked on conquest of southern Spain
• For 600 years, Jebel-al-Tariq (aka the rock of Tariq) formed part of the Moorish Kingdom of al-Andalus
• Between 1309 and 1462, Spanish Christians made attempts to claim the rock. They succeeded in 1462, and sent the Moors back to Africa
• In 1704, joint Anglo-Dutch army took Gibraltar and the Spanish made several attempts to win it back, which culminated in the Great Siege of 1779. Today, Gibraltar remains a British colony.
• General Franco closed the border with Spain in 1967 and it just reopened in 1985. Today people freely cross back and forth from Gibraltar to La Linea, Spain.
• Find more: www.gibraltar.gi & www.yachtscene.gi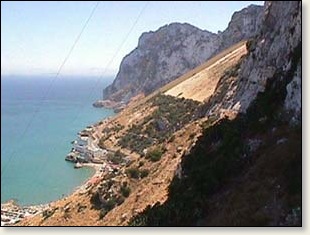 get a piece of the rock:
• Long before it was the logo for Prudential Insurance, the Rock was a strategic locale, guarding the entrance to the Med
• Profile: ancient limestone, 200 million years old & 1476 feet/450 meters high.
• Romans believed Gibraltar to be one of the two pillars of Hercules; the second, Mount Atlas, is visible across the Strait. Hercules opened the Straits of Gibraltar during the tenth of his 12 labors.
• Inside the rock are 48 km/30 miles of tunnels, The Great Siege Tunnels, started by the British forces in 1779 and continuing to this day.