Dodecanese
The Dodecanese are a chain of 12 islands which are closer to mainland Turkey than Greece. We've visited three of them to date: Leros, Kos and Symi
Kos.
Kos
In Kos, we stayed at the town's brand new marina. This was the first time we'd been at a marina since we arrived in Greece in June. The Kos Marina is a pretty chichi place and it was fun to just jump off the boat and head to town versus driving the dinghy ashore. There are a lot of restaurants, shops and natural blondes around town. The latter because a lot of tour groups from Scandinavia visit during the summer and fall. We toured the Knights Castle where St. John and his guys held court, visited the legendary tree where Hippocrates supposedly taught and topped off the night at El Paso's.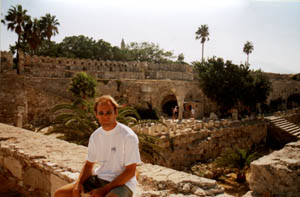 Ryan in the Castle of the Knights, built in 14th century.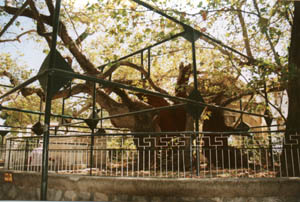 Hippocrates Plane Tree. The story is that Hippocrates taught his students under this. But, given that the Plane tree 's life span is around 200 years and Hippocrates lived from 460-377 BC, it's a nice tale from the pages of historical fiction.
By now we should know that Mexican food prepared by Greeks is not really Mexican, but we always have hope. I ordered veggie fajitas, received a strange combination of veggies for fajitas and received only two tortillas. We requested more tortillas and received 2 shots of tequilla. When we requested the check, they brought 2 more shots of tequilla. Top that on a margarita and a beer and it doesn't really matter what the food is like. And yes, we fell prey to a polaroid-wiedling joker dancing around in a serape and sombrero -- evidence below.
Ole! Ole! One tequilla, two tequilla, three tequilla, four. Fiesta at El Paso's.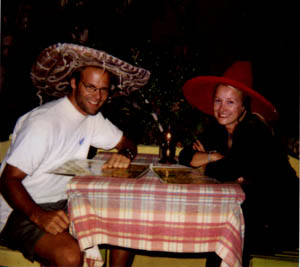 Symi
We spent a few days in Symi before heading off to Turkey. There was a bus that whisked us from our small village to the big village of Symi. The picturesque harbour is lined with pastel neo-classical mansion-type buildings. We also cleared out of Greece at the Symi customs office and received the first stamp in our passport since the Azores in June of 2000.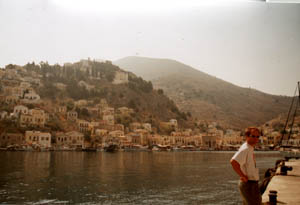 Ryan along the shore in a harbour west of Symi Town, where all the action is (boat trips, sponge and lufa salespeople, shops, etc.)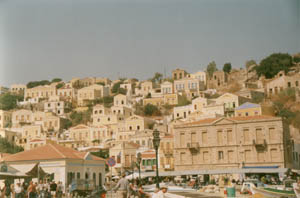 A shot of Symi Town. It's a u-shaped harbour with buildings lining the hills. Quite scenic.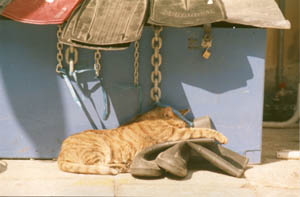 Obligatory cute cat photo -- Puss & Boots