Delos & Mykonos
With Paros as our base, we took a day trip over to Delos and Mykonos.
Delos
An important archaeological site and sacred island, Delos is the mythical birthplace of the twins Apollo and Artemis. It was first inhabited in the 3rd millennium BC. During the Hellenistic times, it became one of the three most important religious centers in Greece and a successful commerce center. Wealthy merchants, mariners and bankers resided here. It became a free port in 167 BC.
The grounds are impressive and expansive. It was easy to spend three hours wandering through the stone paths and rocky inclines, surrounded by the remains of temples, statues, mosaics and even homes. There is also a museum filled with pieces of life from the days when Delos was a thriving religious and commerce center.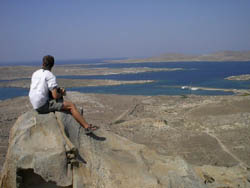 Ryan surveys the scene from high above after a climb of Mt. Kythnos
We found this hymn on display in the Delos museum:
HYMN TO THE SEA

I call Tethy,
the sea-green eyed nymph of the Ocean,
the lady of the dark veils,
who walks gracefully in swift waves,
who surrounds the earth with sweet breezes,
who breaks in big waves in seashores and rocks and becalms in smooth roads

The one who rejoices in the ships,
you water-traveled, fish-breeder, mother of Aphrodite,
mother of the dark clouds and of the nymphs of every
overflowing fountainhead hear me,
oh, most venerable and blessed one,
be of a kind mind and send fair winds to the fast travelling ships

Orphic Hymns, 6th Century BC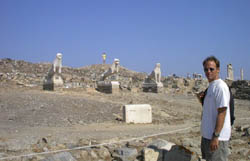 Ryan and the Naxonian Lions who guard over this religious site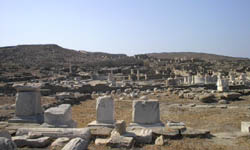 Ruins line the grounds, reaching up to Mt. Kythnos in the background
Mykonos
Mykonos is one of the most popular islands in the Cyclades and boasts a notable nightlife. There are windmills on the hillside and winding streets lined with shops and restaurants. We had three hours in the main town of Mykonos or Hora and we spent most of it eating an overpriced Italian lunch -- after we wandered around for 45 minutes in hopes that a sushi restaurant might pop up. It would have been fun to spend more time here as there seems to be a lot to see -- that is if you like wandering in shops or dancing the night away in a club. There are a lot of good scenic photo opps, typifying the cycladic experience. There also seemed to be a disproportionate number of attractive men wandering around the streets. Oops, I guess I'm not supposed to be noticing that am I?! No worries, Ryan. They weren't looking at me.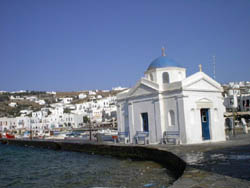 Church on the harbour of Mykonos Town or Hora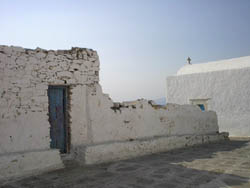 Crumbling stone facade overlooking the sea