Northern Cyprus
In Northern Cyprus, the sights included a president, pirates, castles and a ghost town. At a reception in a castle along Girne's harbour, the president of the Turkish Republic of Northern Cyprus, Rauf Denktas, joined us. How often do you meet the leader of what most of the world considers a rogue nation?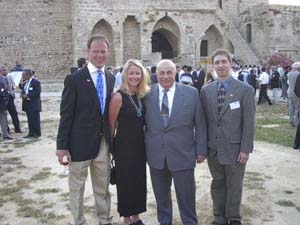 Ryan, Tamra, President Denktas and Ryan's friend Jamie from Seattle who joined us on the first 3 legs of the EMYR.
Our two days of tours included visiting Famagusta and Nicosia. During our tour of Famagusta, our guide said we would visit a ghost town and we followed him somewhat puzzled, through the lobby of the Palm Beach Hotel. We ended up on a balcony overlooking the ocean. People splashed in the surf and lounged under cabanas. Looking a bit further you start to realize that the high-rise hotel next door is abandoned, as is the one next to that and so on. For miles, the coastline is a ghost town of empty and deteriorating hotels and resorts that closed in 1974 when the UN-embargo started.
Visiting Nicosia, we saw the division of Northern (Turkish) and Southern (Greek) Cyprus. A UN watchtower stands inbetween while a fence with barbed wire divides the land. On a less serious note, we also visited sites such as Othello's Castle, immortalized in the writings of Shakespeare and the Roman ruins of Salamis. Later that evening, pirates made their way from Girne Marina to town for the EMYR's traditional pirate party.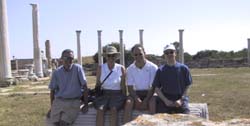 Chip and his sister Bunny (from S/Y Onset -- Bunny's husband, Bill is wandering elsewhere), Ryan and Jamie amongst the Roman pillars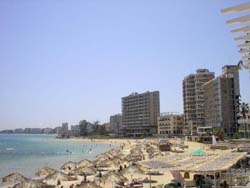 View of the "ghost town"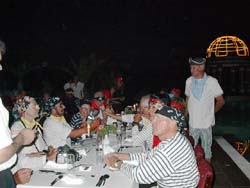 Some pirates at the annual pirate party.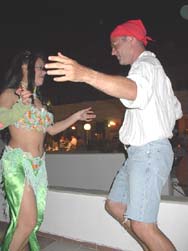 Pirate Ryan tests out his belly dancing skills.