The Azores: Faial
Land ho!
On June 16, 2000, after 15 days at sea, we made landfall in the Azores, on the island of Faial. We sailed the entire way and revved the engine only for our approach into Horta harbor.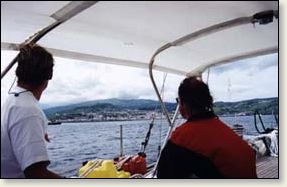 Horta is the main Azorean port, attracting yachts from all over the globe. Faial's green landscape is covered with white washed buildings and hydrangea. In contrast, the western point of the island has a dark, rocky landscape created from volcanic ash of Vulcao dos Capilinhos many decades ago. After arriving, we first went in search of a laundromat, and then found Peter's Sport Cafe for a celebratory drink.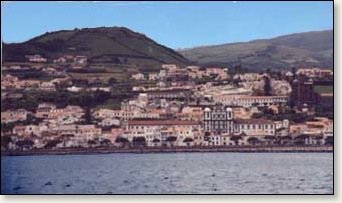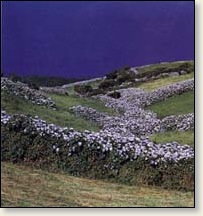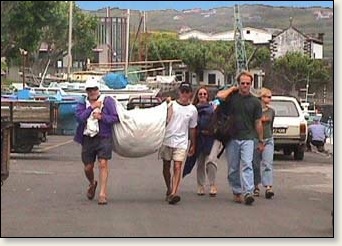 If it's flat and concrete, paint it!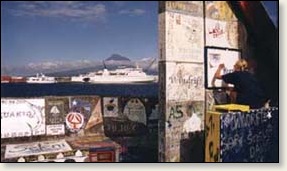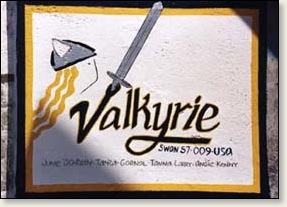 To commemorate visits to Faial,it is tradition that boat crews paint a sign in the marina, either on a wall, bench or the street. It is a great record to see who has been through and demonstrates Faial's international appeal in the sailing community. Ryan found the "Seleni" sign (see nearby bench) which marks his first Atlantic crossing in 1998 and we chose a spot nearby for Valkyrie. Below, post-painting, Tamra, Angie and Larry head down the painted street.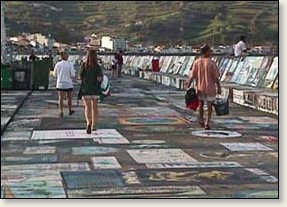 Factoids
• Nine islands in the mid-Atlantic: Corvo, Faial, Flores, Graciosa, Pico, Santa Maria, Sao Jorge, Sao Miguel, Terceira
• 900 miles off coast of Portugal & 1800 miles from Bermuda
•
www.drtacores.pt