Amorgos
We arrived to Katapola, Amorgos on Sept. 11 and learned about the NY and Pentagon tragedies in a mini-market. For the first couple days, we were anchored in the town harbour. It's a quiet, low-key island and is a nice break from the tourist-centric busy and bustling stops of Paros, Santorini, etc.
There's not a lot to do though, so we're not recommending the place for a week-long holiday (unless you're on a boat and can escape to other spots).
One evening we visited the town of Hora, a well-preserved Cycladic village, 400 meters above sea level. It was a nice peaceful village that had a small archeological museum too. Unfortunately, since we were there in the late afternoon/early evening, the lighting was not flattering to my photos. So none are featured on this page.
After leaving civilization, we found an anchorage where we spent a week. Most of that time, we didn't see any other people or boats. For a couple days, there was absolutely no wind, so it was like floating on a giant aquarium. We made trips to shore for hikes and ran into a herd of goats. Who ran as soon as they saw us.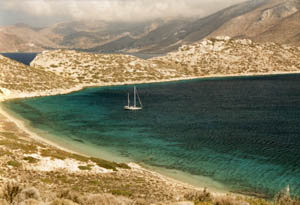 Valkyrie in our private bay on the island of Amorgos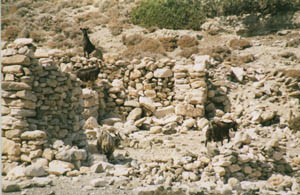 Goats making their get-away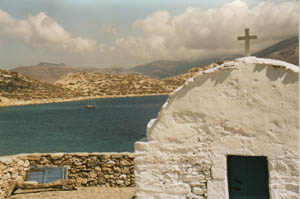 Chapel overlooking the bay