EMYR
May 15, 2002 22:03 Filed in:
EMYR
"Once upon a time there was an EMYR. No one really knew just what that meant. Was it a great bird from way down-under or an Arab leader in a tent?"

-- EMYR Rally song verse 1, written 1998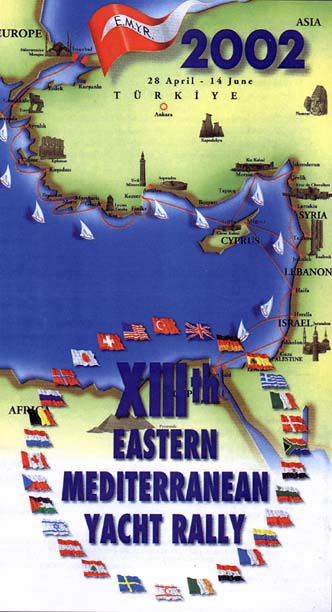 Six countries and 955 miles later after the rally's Grand Start, we had a pretty good idea of what the Park Kemer Marina's EMYR, or Eastern Mediterranean Yacht Rally, was all about. Our whirlwind tour, starting in Kemer, Turkey and ending in Herzliya, Israel took 29 days. Forty-one sailboats from 12 countries (Austria, Canada, Denmark, France, Germany, Israel, Netherlands, Sweden, Switzerland, Turkey, UK and US) and one Grand Banks started the rally and 24 completed the entire voyage. We also had Turkish Coast Guard escorts with ships 83 and 103 assisting the fleet throughout our adventure and making diplomatic visits in every port.
We visited Northern Cyprus; Turkey (Mersin, Iskenderun); Syria (Lattakia, Damascus, Palmyra), Lebanon (Jounieh, Beirut, Byblos, Bekaa Valley), Egypt (Port Said, Cairo) and Israel (Haifa, Ashkelon, Herzliya).
The 13th EMYR, sponsored by Park Kemer Marina, was led by Hasan Kacmaz, general manager of Turkey's Park Kemer Marina and EMYR committee member; and the rally secretary, Umut Tepedelenlioglu. You can visit the official EMYR site at Park Kemer's website. Here's the link:
www.kemermarina.com
.