Lebanon
Our port of call in Lebanon was Jounieh, which is not far from Beirut. On the afternoon of our arrival, we headed off to Beirut, expecting to see a city ravaged by years of civil war. Instead we found an area reminiscent of a European city with brick-lined streets and sidewalk cafes surrounded by rehabbed buildings with wrought iron balconies.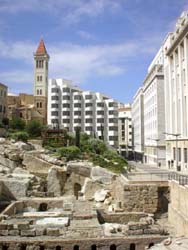 Ruins, a church and modern buildings in Beirut.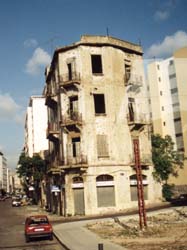 A building that hasn't been repaired since the war.
We were expecting to see more of this.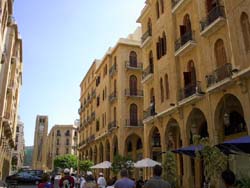 Rehabbed Solidaire area with sidewalk cafes.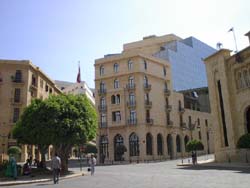 Plaza of Stars, center of the city.
The area called Solidaire is a government-sponsored effort to restore the buildings to pre-war conditions. Other surprises included seeing the American dollar coming out of ATMs and American food chains everywhere. In Lebanon, the Lebanese pound or American dollar is accepted anywhere and regardless of what you use, the change you receive back may be a combination of both. As we walked around the city, Starbucks, Seattle's Best Coffee, Cinnabon, McDonalds, Burger King, Pizza Hut, KFC, Ben & Jerry's, TGI Fridays, the Hard Rock Cafe and Dunkin' Donuts came into view.
The following day, we journeyed into one of the world's most magnificent caves, Jeita Grotto and then visited the ancient seaside port town of Byblos.
The following day, we toured the Phoenician site of Baalbek with its imposing ruins and towering columns. On our way back to Jounieh, we traveled through the Bekka countryside where Bedouin tent villages dotted the landscape and their nomad inhabitants worked the fields.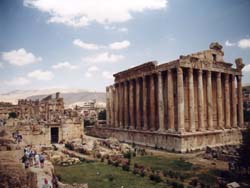 Baalbek, more evidence that those Romans really got around.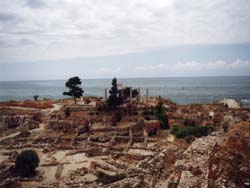 Seaside Byblos ruins.