Egypt
We had a dolphIn escort to the EMYR rendezvous point outside the entrance to the Suez Canal. Hasan, the rally organizer, was onboard Valkyrie with us and his Bolero CD in the stereo seemed to be the correct music choice to attract dolphins and keep their attention for about one hour. When all 26 boats were in position, bobbing in the harbour, it was time to prepare for entry into the canal to get to Port Said. We were led by a pilot boat and followed in a floating conga line.
Once docked in Port Said, the quest to see the Giza Pyramids began. Armed vehicles escorted our buses and there was also a security guard onboard. Word was that there was one armed guard for every four people on tour. This is common practice for all groups visiting Egypt. As we drove into Cairo, the pyramids materialized on the horizon tucked between buildings. While I had envisioned trekking out in the desert to see the pyramids, here they were, surrounded by a town. Yet, while you're at base of the pyramid with golden sand swirling at your feet and camels walking by, you're transported to another place.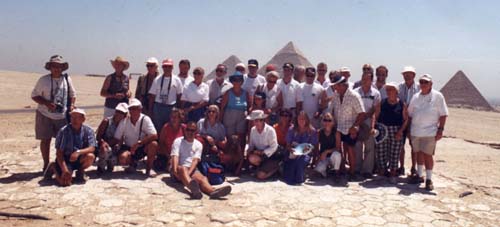 About 1/2 of the EMYR gang on hand for a photo with Pyramids in background.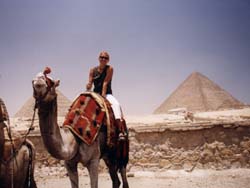 Tamra riding a camel (through a parking lot near the Pyramids)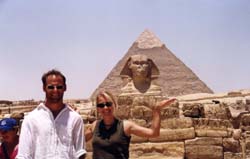 Ryan & Tamra at the Sphinx.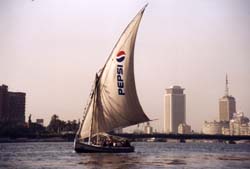 Felucca cruise on the Nile, sponsored by...PEPSI.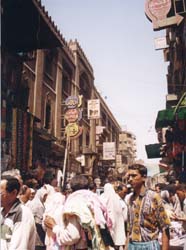 Market in Cairo
Everyone posed for the requisite photos and within minutes, we were back on our air-conditioned transport being whisked away. We later toured the Cairo Museum and then took a felucca ride down the Nile. My images of a lush, green landscape complete with crocodiles napping on the banks of the Nile was exchanged with the reality of Cairo's urban scene -- buildings, cars, smog and even camels marching across a bridge. As each felucca hoisted its sail, the Pepsi logo was proudly displayed. Fortunately, the pyramids are still sponsor-free.